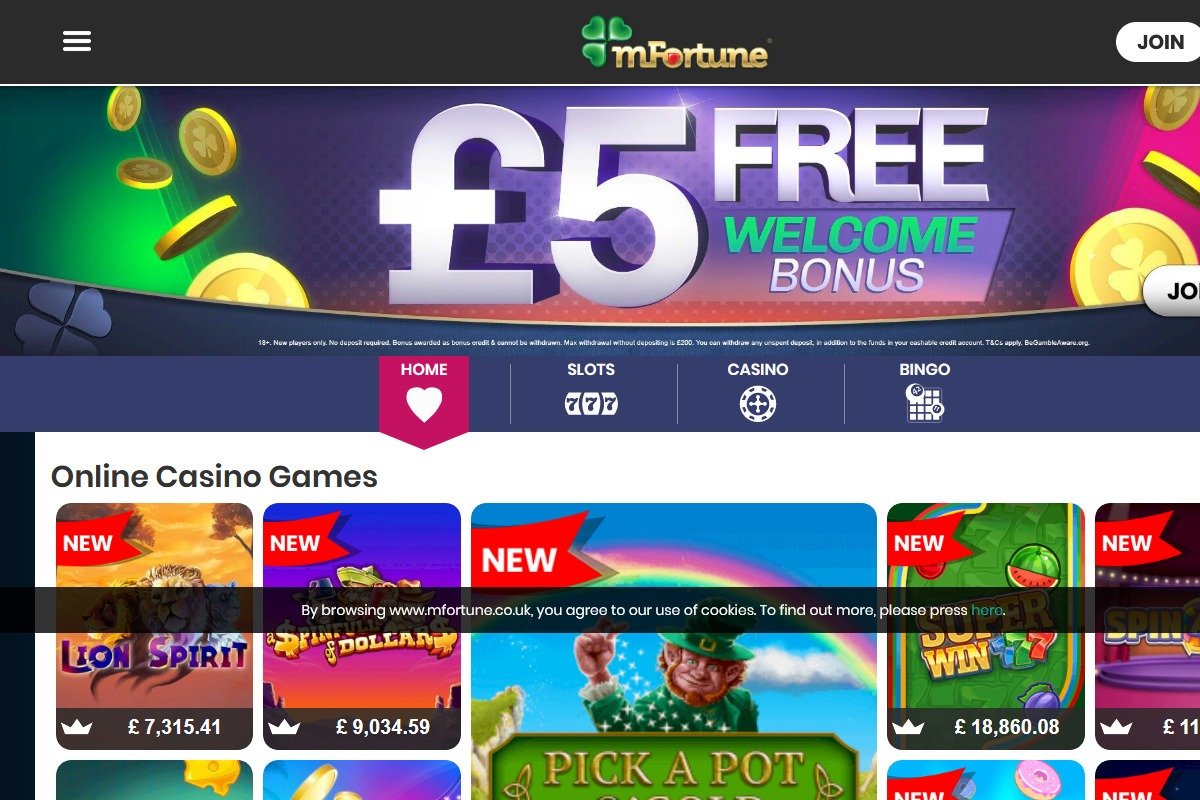 MFortune.co.uk Overview
MFortune.co.uk is a known as a UK based software developer. And operator with so many money slots that are real and also online social slots. They were established as far back as 2003 by Wilson Simon with their headquarters in Birmingham and more than 150 staffs. There are other offices owned by them in Bucharest Romania. And they also offer casino and bingo games on both tablet and mobile.
As back as 2003, they were into the manufacturing. And supply of leisure machines for pub trades and retail betting. But were stopped by smoking ban threats and recession. Thereafter, as they were trying to manufacture a betting terminal that will be connected through Bluetooth to mobile devices. The thought of developing mobile phone games came to them. And a suite of four games which are Blackjack, Roulette, slot and poker came up.
Casino and Slot Games
It should be mFortune games are unique because the games are being developed in house from the mFortune software. MFortune.co.uk offers around 29 slot games, about which 8 slot games have bingo games as side games. The Which Witch, Cat and Mouse, Buster Safe, and Vegas, Sherlock, Buck a Reels, Gold MacDonald and Robins Reels are among the slot games that are available.
Only four table or casino games are available at MFortune.co.uk casino. And they include HiLo Poker, European Roulette, Texas Hold 'em Poker and Blackjack.
MFortune.co.uk Bonuses
VIP club for mFortune is strictly by invitation as you'll be invited by their specialist VIP team once your account is ready. There are some happy hours, fantastic bingo and exclusive promotions, prize draws on Fridays at 8:30pm (where prizes like 50 inch TV cash prizes, Dyson's holiday vouchers and so on), competitive slot games and so on attached to the VIP club. 50% of your friend's first deposit is given to and free €/£5 as part of their kind scheme. The new players are offered £/€8 on sign up with no deposit required which you can used to play their 9lives slot games.
Customer Support
MFortune.co.uk casino always have their customers in mind and that is why everything is made easy at the casino. Things like providing an all hour/ year round support, making deposits easy with direct processing. You can reach out to their team of expertise through phone call (01384 880842 for UK residents only), e-mail (support@mfortune.co.uk) or the call back service (Text HELP to 85777).
RELATED ARTICLE: CasinoOfDreams.com
Website: https://www.mfortune.co.uk/
Reviews
I feel like it's a scam.
This casino is awful..don't win anything on the games. Poor game selection, and the customer service is horrible, I asked them what their payout rate was and they didn't even know what I was talking about and couldn't give me a straight answer. I feel like it's a scam.
It's awful
I have emailed, phoned and went and live chat and you are betting are still..Not giving me my money – I'm going to be taking it further now plus contacted bank for a chargeback too. I will get the site investigated as all the review are bad. Gambling companies should not be able to this. £5000 is a lot of money but not compared to how much their company is worth!!!!!!!!!! Please get this resolved!!!! I have tried the link I was sent and still nothing !!!!! Please don't sent me you auto email also!!!!! I'm going on every gambling review websites rand telling them how bad your companies are!!! The reviews speak volume!!!!!!!!! It's awful and it is causing me stress!!!!
Customer service is appalling
Customer service is appalling. Had an account and took a time out. Now I have requested this to be reopened and have been waiting over 4 months for a call from their safer gambling team due and I quote their extreme back log.
Extremely hard
Extremely hard to get your withdrawal. I have been waiting over a month. Their live chat is useless as nobody gives you an answer and ignores constant requests for resolutions.
The worse of the worse
Do not go anywhere near them, there customer service is absolutely horrific. Will be reporting them to the gambling commission for massive social responsibility failings which they fail to see or acknowledge. The worse of the worse, stay away.
Absolute joke!
Absolute joke!!!!! Been waiting too get my account verified for over a week after sending documents they have asked for. I cannot withdraw any of my winnings until it gets verified. What a coincidence!!! Basically hoping that I spend it all in the mean time. The customer service is none existent, nothing but apologies too brush you off instead of actually fixing the issue. Live chat and emails are just pointless keep being told I will be emailed…. doesn't happen. you think that verification would be easy for a big company like these but clearly not. Waste of time
It's got the good game titles at any time!
It's the coolest game titles possibly! In addition it's extremely all to easy to heap and cash out! What else can certainly you may ask to get!!
Agreed payment may be seamless
Over the past 2 months We have played out We have picked up major jackpots as well as the pay out has been seamless. I seriously love playing this specific
I seriously enjoyed
Gambling house for about might be 1 year now simply no I've not picked up something big or perhaps large however I have picked up wonderful babies every now and again in addition to pleasurable times I actually loved this specific area
Excellent customer service!!
I am happy to say i am satisfied with my experience. My first deposit only took 5 days and I have no complaints. If you have your verification documents in order, then you will good to go. Excellent customer service!!
Great casino
Great casino, easy deposit options, quick payout, many games providers, often no deposit promotion i recommend
Great site
Great site,fun,and well worth it. Original and new games plus you can play for fun, and for real it's your choice.
I like to play
I like to play at your casino because it gives you great bonus offers and quick payouts. I have recommended your site to my few friend too.
I love casino
I love casino especially when I win and when they send me free sweeps I've played every game and enjoy all it them and what's better then playing games for cash or for fun at your own time no need to travel
Customer services are so bad
3 months on and still waiting on payment have had every single bulshit excuse possible
Won't go near them again robbers
I won on the slots and tried to withdraw £300 from my account after around 3 days I was asked to send in my id which I did. 2 days later I called in to ask for an update to be told I had to provide a lot more id than I was asked for the first time. Anyway I supplied them with all the Id only to be told that I was not allowed to make the withdrawal for another whole month so they could see my next phone bill and that I had paid it. I had already sent them in my previous months phone bill clearly showing I paid the bills on time and the full amount. But they said I wasn't allowed to make a withdrawal until they seen my next bill just an excuse to hold onto your money which I ended up just reversing and losing anyway. I'm closing my account won't go near them again robbers.
Took the money I won
Sign up and you get free spins they also text you offering free spins , I won £30 so I withdraw the money say it takes 2 weeks as I didn't deposit only to be told in 2 weeks that I already have an account and they then took the money I won scam